If you're reading this and you've done SEO, you'll know there are more than 4 steps to doing it successfully. But mastering SEO can be done in as little as 4 steps for those who want to know what the most important parts of SEO are. You should be doing all of the parts that work for you but if you're looking to streamline your time, money, and efforts into the most critical of SEO steps than this article is for you.
Mastering SEO – The 4 Steps You Cannot Miss
Before you dive in, if you don't know how well your SEO is doing, consider an audit. You can do your own SEO Audit in my guide here. This will help you better understand how to leverage what you'll learn here about mastering SEO.
Keywords
SEO is simple but it isn't easy. Keywords and key phrases are the make or break portion of your strategy. Thinking how your best customers think and understanding what they'll type to search for you. Evaluating your competition's keywords. Researching how saturated keywords are and how you can tweak them to be more effective.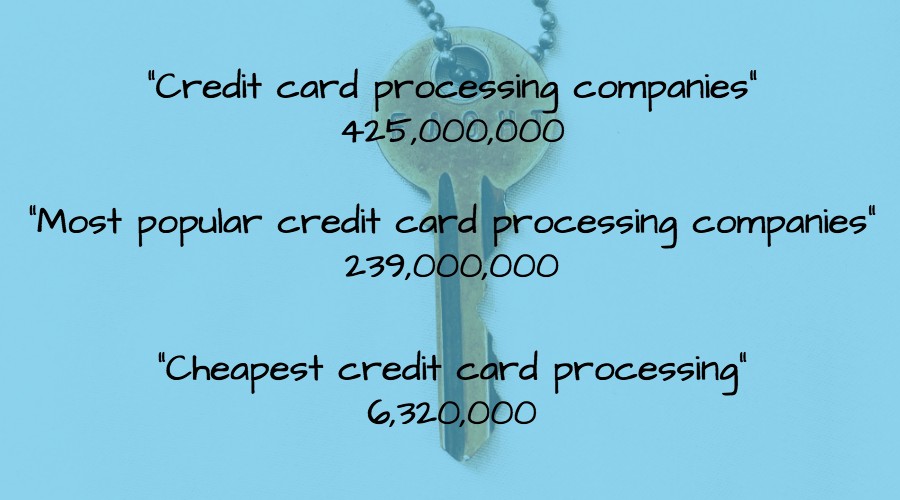 Look at the example image above. 3 different keyphrases and the total number of search results for each. The number of search results equals the number of people you have to beat for that key phrase or similar key phrase. So long-tail more specific keyphrases are going to be more effective, but you'll need to do deeper digging to determine which direction is better suited for you.
Content
Great content is a cornerstone of mastering SEO. The purpose of content is to keep people on your site, reading longer, visiting more pages. Your content should be relevant to your key phrases and be easy to read. There are different types of online writing styles that vary in technicality, purpose, and strategy. You can learn about those, and readability scores here. Make sure your readers feel an emotion, learn something, or walk away with value (or all 3 if possible.)
Optimization
Your key phrases and content now need to be optimized together with the appropriate metadata to play best with the 'rules' of search engines. The technicality of how to optimize will depend on the platform and tech you are using. Not all SEO plugins or websites are structured the same so the technical portion of your experience will vary. In some cases, you may need to either know or be familiar with the rules of HTML. Some tools or plugins will work better than others or have more flexibility. For the sake of simplicity, I'll share my guide to doing SEO on Yoast as all of the 'rules' for SEO are featured in this tool. How your site is built will matter too, of course.
Architecture is a very important aspect of mastering SEO. If a web developer doesn't have a really strong understanding of SEO or the SEO tool you are using, you may lose some of your ranking power. That's why some web developers cost a lot more than others.
Link Building
I have an article here on how to build backlinks that will also help you understand what they are. We know that relevancy, and authority are big factors for Google, and backlinks help achieve both, specifically authority. The more quality legit backlinks you have the higher your ranking will likely be.
According to Google, you can rank without link building but a lot of SEO professionals will disagree. While I believe you don't have to build links, I think you should because it is really effective.
__________________________
What are your thoughts on mastering SEO? Do you have anything to contribute to the list? Drop by on Facebook and let me know your thoughts. If you need help with mastering SEO send me a smoke signal and let's chat!