More than 500 million users are active on Instagram daily. That's why it's so important to not only make good Instagram content but also to leverage these strategies properly. And in this article, I'm going to teach you how I use this powerful social tool to market for myself and my clients. Like many people, I was reluctant to add yet another social media platform to my portfolio. It's turned out to be one of my favorites which took me by surprise. In June of 2013, Instagram had 130 million monthly active users. That's a growth of over 10 times! So it clearly isn't just me who loves this platform.

Before we begin, I find that Instagram is easier to manage from a desktop when I'm using custom graphics, stock photos, etc. I also prefer to embed links and images using desktop versions of each platform. Since Instagram doesn't have a desktop version, I wrote an article on Using Instagram From A Desktop so that you know how (if you don't already) just in case you want to use desktop too.
Good Instagram Content – The Visuals
You HAVE to post some type of visual content on Instagram but it's about where you post them and what kind.
Photos
Use original photos. Pictures of your meeting place, your team, your products. Add in as much content as you can that isn't something you can pluck from online.
Using stock photos is totally OK too. It's better if you can adjust them to fit your brand and be more "you". If you are like me and are awful with Photoshop, try something more user-friendly for beginners. Like Canva or Snappa. Using stock photos is super common so try to at least add your own watermark, website, or a phone number if nothing else.
Don't forget to use your customer's photos too if applicable. Encourage them to tag you by having some type of promotion or giveaway. In most cases, if you ask, they'll give you permission to use their content as it pertains to your products or services.
Videos
This is no different from my advice on the photos, instead, you're just using videos. Mix it up so your content doesn't get repetitive. You can use filters or Boomerang to make it more fun. Add links to YouTube videos with thumbnails or photos as well. Remember, you want things to keep from being the same over and over or you'll lose interest from your followers.
What I don't see enough people doing is using video testimonials in their business. This is super easy to do on Instagram and you can embed that into your website (covered in a later section.)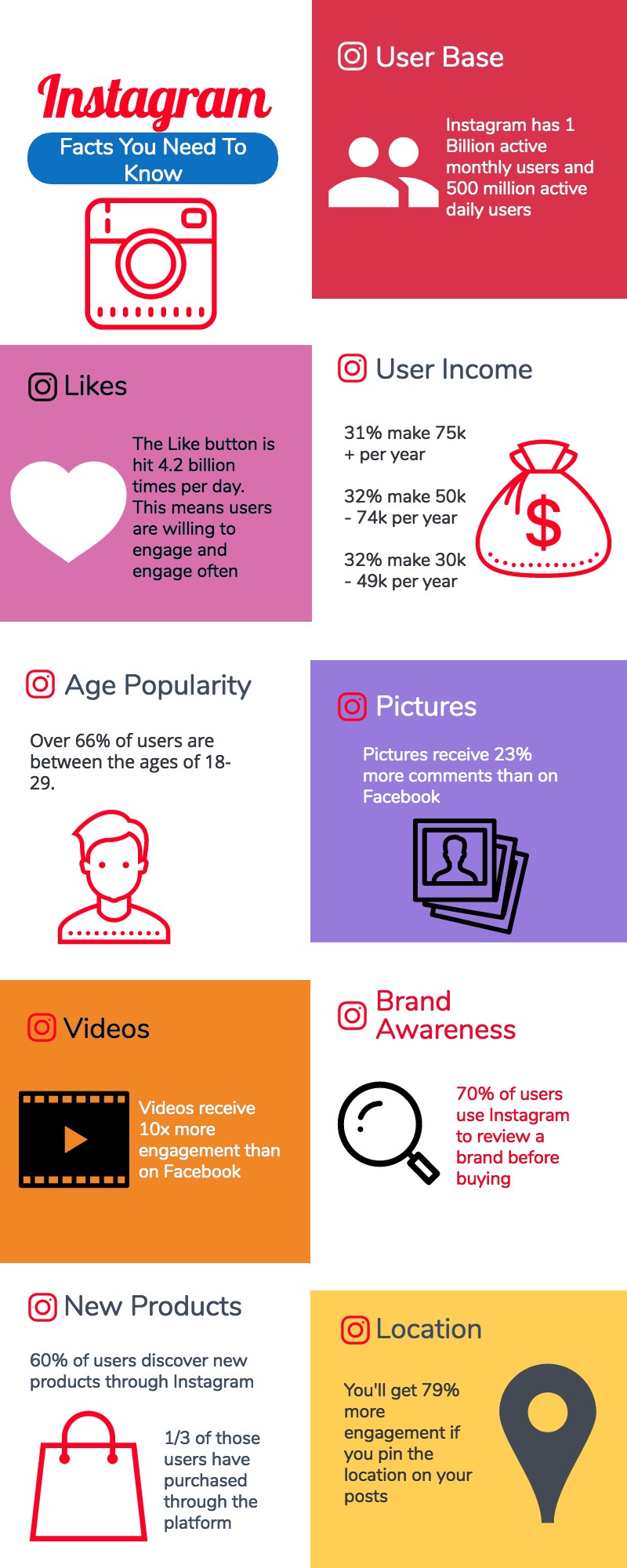 My Story and Live
Don't forget to leverage both your Story and Live features for photos and videos. The more mix you have in your content and content locations, the better.
Sharing and Reposting
This is what's overlooked a lot when creating good Instagram content, which is other people's posts. Using a tool like Regrann, you can repost pictures or videos. Just be sure you tag the party to give credit. It's always a good practice to ask for permission as well. Share content that's relevant to your industry.
Good Instagram Content – The Words
It isn't enough just to post good visuals. Making good Instagram content also requires written content.
E, I, F
Is your content Educational, Informative, and/or FUN? These are the key areas of focus your verbiage should have. It should also be relevant to the visuals you posted. So if you're educating on content marketing, don't use a picture of a cat just because it's cute. It doesn't make sense unless you can directly tie the two together.
Relevance
Make sure that what you're saying is applicable to the situation. Not just the visuals posted at the time with it. Does it make sense on your page? I post a LOT of things on my Instagram. My content is business as well as personal. People follow my page for inspirational and leadership content just as much as they do for video game posts and funny memes. It's all relevant to what I post and the 'brand' of my page. Your posts should be a reflection of who your business is and who you are. Unless they're two separate profiles. I have one combined page because I like to use Instagram and Twitter to add deeper levels of transparency.
Collaboration
Work with the people in your sphere. Just like with co-op blogging or marketing strategies, use each other to help here as well. If you are connected to any influencers or people with higher followings, see how you can help each other. Growing your business often involves scratching each other's backs. Marketing isn't excluded from that.
Good Instagram Content – The Strategy
What else can you do to improve your Instagram game?
Embed
You can easily embed your Instagram visuals into your website for landing pages, blogs, service pages, testimonials, etc. There's a correct way to embed your Instagram images that doesn't hurt your SEO. You can find the developer documentation directly from Instagram.
You can embed an image or video from Instagram with or without the captions, which I've included examples of both here.
View this post on Instagram
Hashtags
Not only should you use hashtags to be found by potential followers, but you should also use them to engage others. Search for hashtags to find places where you can share your information, experience, knowledge. Since Instagram doesn't have groups like Facebook or LinkedIn, use hashtags as a way to find an audience. If you need help learning how to use Hashtags in both capacities, check out How To Be A Hashtag Hero.
Content Focus
What's the purpose of your posts? What are you trying to accomplish? What is the individual mission of each post? Each time you are posting content on Instagram, think about what each post is supposed to achieve. Be sure the visuals, verbiage, links, hashtags, etc. are all in line with that focus.
_________________
What are your thoughts on making good Instagram content? Do you have any tips you'd like to share with others? I'm happy to add them to this article or on my social pages. I'd love to know what you've been doing on your Instagram that you've had a lot of luck with as well. Since we're on the topic, let's connect on Instagram.