A long, long time ago in a galaxy far, far away, Twitter turned a simple "#" symbol into a way to identify messages about specific topics. This article is all about how to be a hashtag hero. In other words, how to use hashtags correctly.
What is a hashtag, and what does it do?
To start, let's briefly talk about what a hashtag is. It's a way to reference a topic, category, point of interest. It helps you more easily identify more specific information inside of a particular place. In this case, social media platforms. Not all social platforms, but most:
Twitter
Facebook
Instagram
Pinterest
Tumblr
Google+
Why should I use them?
You want to be a hashtag hero because you want more exposure for your social media content. Using hashtags correctly will drive more traffic to your posts. The goal is to draw the right viewers, your target audience. Users can click on a hashtag, or enter a topic in the SM search bar. The results will generate content with the same hashtag. It's like allowing people to look inside that platform for more specific posts. In this example, we'll be looking up Yoga on Instagram.
Notice the results, which will reflect across the board in each platform. Verified / Official pages will display first. Most relevant or closest to the search criteria first. The categories/hashtags will list in the same way, as you can see here.
When we look at "#yoga" we see that there are 45,287,274 relevant posts that are labeled with that same hashtag. We want to view them, so we click on it. We will then see the content displayed. You'll see options for newest and most relevant, depending on the hashtag you searched. Let's see what we found.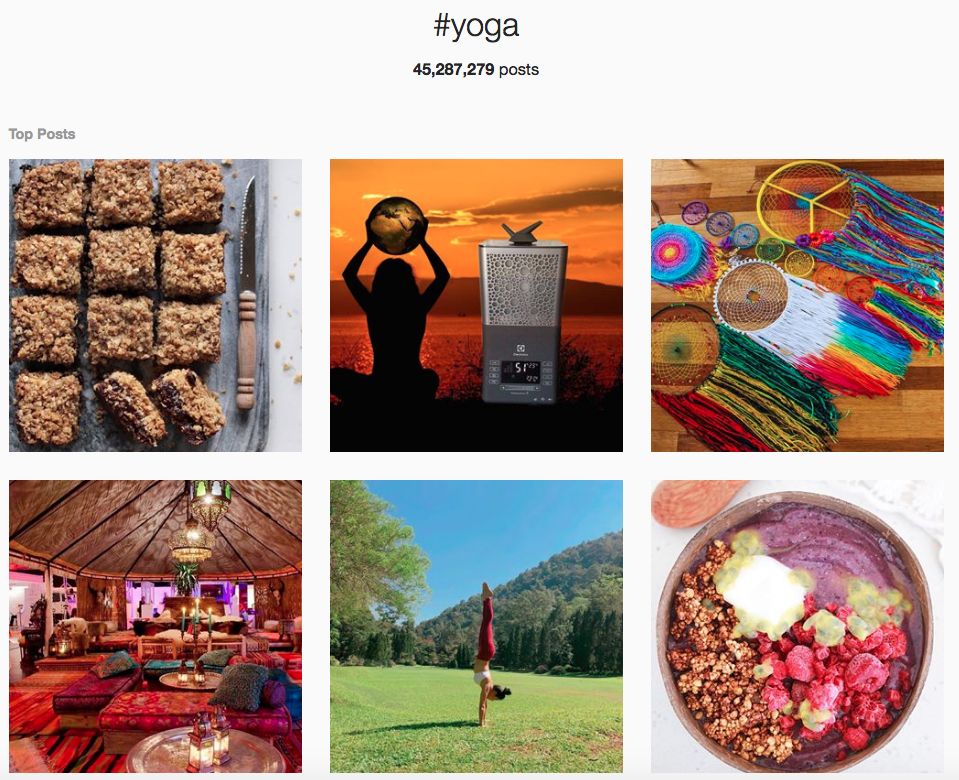 Now you are delivered more specific results. Since Instagram is image heavy, you'll receive millions of image choices. This is exactly how your best customers will find your content on social media too.
How do I become a hashtag hero?
Now that you know the basics of hashtags, let's talk about how to be a hashtag hero!
Hashtag Frequency
We personally use hashtags on every Instagram, and Pinterest post, and most Twitter posts. Those are topic rich platforms that are picture focused. On Google+ and Facebook, we use them about 50% of the time. We don't believe there's a magic number, and that you should use your judgment. Using them every single post is annoying. Using them too little means you're missing out on engagement and new viewers. Be a hashtag hero, not a hashtag zero, or a hashtag overachiever.
Hashtag Use
It's easy to abuse, misuse, and highjack hashtags. We see it a lot. We see it even more than the underuse of hashtags. Let's talk about what you SHOULD do to be a hashtag hero:
Research hashtags
Limit your hashtags to 2
Get specific
Use Local hashtags

#tampaevents
#egyptiantravel
#californiarealestate

Check your analytics
To summarize, take the time to make sure your hashtags will be relevant. Use no more than 4 when you are using them. Some very experienced users may use 6-8. Generic hashtags are too saturated, so avoid them. Always take advantage of locality when you can. Most importantly, you can't be a hashtag hero if you aren't keeping track of it all. Knowing how you're performing is paramount to making the right improvements.
So here's the list of what not to do. Do NOT:
Highjack hashtags
Use pointless hashtags
Only use popular hashtags
Highjacking hashtags are using successful hashtags that are relevant to your industry, but not relevant to your content. It's a complete turn off to be directed to stuff you aren't looking for. To be a hashtag hero, your hashtags have to make sense. Pointless words that have no real significance to anything in your industry are exactly that. Pointless. Don't use them as they won't help your bottom line. We see a lot of posts that focus on what hashtags are popular. This is really common on Instagram. Don't use it because it's popular, use it because it's specifically relevant to your content. You do remember we found over 45,000,000 yoga posts, right?
But all my friends use a million and one hashtags…
To be a hashtag hero is about quality over quantity. If you are having good results, you can use more hashtags. Use better, smarter hashtags to be more effective. Using a higher number of hashtags usually results in a less specific, broader audience. It's good for boosting your numbers, but not for driving engagement. Engagement is the point of social media. It's what will be the difference maker for you.
We hope you enjoyed the read and that you're on your way to being a hashtag hero if you aren't already one. If you need a little more help on your social media, you can schedule an audit. We'll be happy to help you make some improvements.