Social media strategy is the art of creating a roadmap for your social media marketing. The goal is to be as efficient and profitable as possible. Like all marketing efforts, a Return of Investment should be a priority in the long-term game. So how do you create this roadmap? That's what this article is about, the basics of planning and implementing your social media strategy.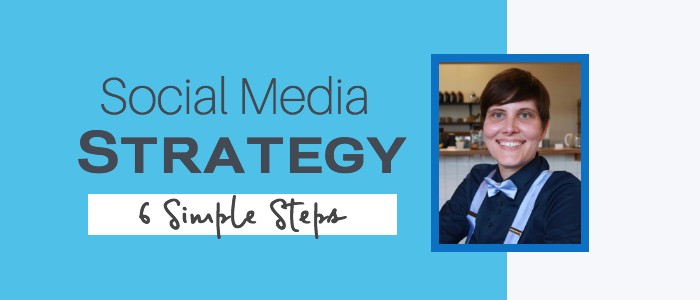 The keyword here is "identify". I'm going to share the things you need to identify first to create your social media strategy.
Identify your Goals
The first foundational step to creating and marketing strategy of any kind is to identify what you want to receive from those efforts. As with all goal-setting, I recommend SMART goals.
Specific – What exact goals do you want? Do you want 100 new followers by the end of the month? Do you want 35 more subscriptions? 10 more leads. A 10% improvement to your close rate. 25% increase in revenue. Make sure that you have specific data that can be compared and used to hold the strategy accountable.
Measurable – Having these specific goals will allow you to say "we made the goal" or "we beat the goal by 7%." Or "we missed the goal by 19 units."
Attainable – Make sure the goals are reasonable. If you don't know what 'reasonable' is for you yet, do a campaign for 6 months that's low cost with no paid ads and measure your results. Learn from your analytics and other methods where an attainable level should be.
Relevant – The strategy you are creating needs to be relevant to the goals you want for the company. So for social media strategy, make sure that social posting and campaigns will contribute to those goals.
Timely – Make sure that you have a timeline for your goals. How often will you check-in and when do you expect results to begin happening?
Identify your Target Market
"Anybody" and "everybody" is NOT your customer. Sure you COULD work with anyone but you don't want to. Identify a specific class of customers you want to increase revenue from and then decide on how much. Identify these customers in detail. Age, gender, income brackets, job types, etc. The more data you have the more research you can do on this group of customers.
Identify your Platforms
Remember that research you did on your target market? Well, now you're ready to decide where those people are on social media. I've seen very successful campaigns on only 1-2 platforms and others on 5-7. Consider your goals, your product or services, and your target market to determine what platforms to focus on for your social media strategy.
Identify your Talent
Who is going to be creating, posting, engaging, answering messages, etc.? That's the talent you are looking for. It could be one person or a full team. In-house or outsourced. By knowing steps 1-3 you'll be in a better position to source the talent for your social campaigns.
Identify your Content
What are you going to post? How will it educate? When will you be posting? What protocol will you have for answering messages and following up? The most important aspect is consistency so start with a plan, keep it consistent, and tweak it as your analytic data grows.
Influence – By making your content emotional, you can influence your audience. If there are influencers out there that are relevant to your products or services, see if you can arrange a plan. Do an account takeover for each other. Offer up a product or service in exchange for influencing your brand. What about an in-kind exchange of services? Sponsorships? Promotions for your followers are a great idea. Give away something for free or offer a discount for a review or recommendation.
Engage – Offer up educational content that's relevant to your following. Learn who they are and offer up what they like. Make offers. Ask questions. Encourage them to share, tag, challenge. Use hashtags to draw in more attention. Make sure that you don't talk about yourself too much. Make sure that you offer enough education and support content. Make sure you aren't selling too much.
Identify your Results
The final step before restructuring your social media strategy is to get your results. What does your analytics say? Did you hit your goals? How far over or under? What did the efforts cost you and what was the overall return? Do this every 6-12 months to continue to build a better and more profitable strategy. This isn't limited to social media either.
____________
What are your thoughts on developing a social media strategy? Do you have anything to contribute? Any additional steps or techniques? Any success or horror stories to share? I'd love to hear from you if there's anything you'd like to bestow. Additionally, for more content like this, let's follow each other on LinkedIn. If you need help creating your strategy or you need a good manager for your pages, Summon the Sith and let's chat.