On March 21st, the Hernando County Chamber of Commerce hosted the first annual Keys To Success: Business Development Week. The event featured 9 professional presentations centered around business development education. Our President, and founder, Crystal D. Smith, was asked to present on social media marketing. We came up with 'Unwritten Rules to Social Media' where we focused on how to leverage your target market into your social media marketing.
"Taking her advise got me 251 views on my first posted video in less than 24 hours. I can't wait to see if our Job Fair today is a huge success because of it. Thanks Crystal!" – Lauren Jolly, Business Development Manager, Spherion Nature Coast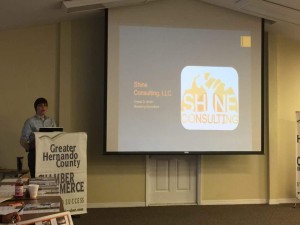 The outline of our Social Media Marketing presentation:
Don't Just Know Your Customers, Know Your Perfect Customer
Know What Others In Your Industry Are Doing
No Content, No Customers
Statistics, For Those Who Are Skeptical
Roles & Responsibilities
Social Media, Search Engine Optimization, and You
We were very happy with the turnout and we're very thankful for the brave souls who participated in our two interactive Target Market role-playing games. Our two sets of Social Media trivia were very popular as well but who doesn't answer questions in order to get chocolate?
"Crystal is the dot com bomb!" – Stephanie Blair, Assistant Director, A New Generation
The event was a big hit and we've already received significant interest to do other presentations, as well as social media marketing training. If your business, business group, or professional organization could benefit from this presentation, or customized social media marketing training, reach out. We'd love to learn where we can help your social media shine!
"Thank you so much for ALL your SEO help on my WordPress website. You showed me me great value and I know I can pass it on to my clients too." – Carole Sanek, Expressive Creator, Butterfly Boom Productions (and Shine Consulting Strategic Partner)
Yes, we can do SEO training too! If having a digital marketer isn't in the budget, or maybe you want an in-house person to learn the basics of SEO. We can help you get started. We offer customized training packages in a variety of networking, sales, and marketing related areas.
We were humbled to have had the opportunity and would like to thank the Greater Hernando County Chamber of Commerce for the Opportunity, we look forward to many more!
Before we leave you with a little humor, we'd like to give a big shout out to our photographer and Strategic Partner, Trevor Barlow, of Monocle Designs Solutions for the photography of the event.