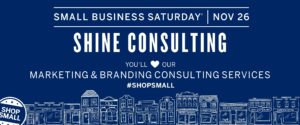 I was very pleased to be able to participate in #shopsmall this year. Not just for my business either, but for everyone's in downtown. It's so important that the mom & pop restaurants get their patrons. That the small locally owned shops and retailers get their buyers. That small home-based businesses get some exposure. I'm all about small business and #shopsmall was so thrilling to me. My wife and I would walk our Catahoula mix in downtown wearing his big blue #shopsmall bandana. We'd go to our favorite little coffee shop and our friend's businesses along the way. We'd bask in the beautiful ambiance of downtown and what it has to offer.
I did promote a great offer Shine Consulting made for the weekend until the 28th, but I was most excited about finding another excuse to promote my friend's businesses because we became friends with them through prior initiatives to promote local small businesses. So here's what we (wife & I) did for #shopsmallsaturday.
We woke up at 8 AM and we had a hearty breakfast of freshly juiced fruits & veggies, and some rolled steel oats with a little cinnamon and nutmeg. Grabbing our #shopsmall shopping bags, we headed out the door around 9 AM. Our first stop was Mountaineer Coffee. This place is a real gem. It's cute, it's quaint, it's simple. We don't drink caffeine (among many other insane healthy lifestyle choices) but we love the taste of the coffee. Daniel & Darby, the owners, roast fresh coffee daily and make their own pastries from scratch.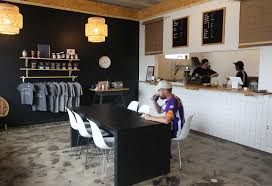 It's the Thanksgiving weekend so I won't lie, we did cheat and split a delicious homemade bagel. We don't splurge on too much sugar but for those of you who are normal and do, this is your place! Mountaineer makes their own fresh flavored cream cheeses, pop tarts, muffins, and coffee flavorings. It is a must try for anyone who's in the area! If you're lucky enough to get Taylor, he makes one mean latte. These guys are among those that represent the very definition of #shopsmall and what this movement is all about.
We then headed off down the street a bit to our friends at Resale Gypsies, a cleverly repurposed furniture shop who also sells and rents event decor and furniture. They are located on Jefferson Street in the old Hedden Realty office, across from the new Print Shack (their second location.) I first met Jules, one of the co-owners, through a business boot camp class and they are the sweetest folks with some really cool things. The antiques and repainted teak pieces are to die for! figuratively, of course. It's a rustic and funky little place that everyone needs to see at least once. It's full of enchantment if you can imagine, to see how one man's trashy furniture becomes another man's beautiful treasured decor pieces.
We thought about going across the street to Print Shack but that's just their printing 'sweatshop' anyway. It gets really hot in there printing all those cards, papers, shirts, banners, etc. Donny & Jennie are great people. We didn't go there, but we're always ready to give them a shout. I get a lot of my Shine Consulting goodies from them and they're a great referral partner. If you want your own branded goodies for next year's #shopsmall, I'm happy to help you design it and we'll get Print Shack to make 'em!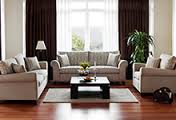 From there we headed out of downtown and went over to Almost Home Furniture & Bedding on Ponce De Leon. I first met Greg and MaeAnn when we bought our first home and needed an entire house of furniture and decor. Nearly our whole house came from their shop. From rugs to paintings, furniture, bedding, to a 14′ bar. We love doing business with one of the county's best-kept secrets. We've referred a LOT of business to them over the years. Their furniture quality, pricing, and service keep getting better. We love to visit them whenever we have some time to stop in and chat, and we're always looking for new styles and ideas for other rooms in the home not yet completed. If you're a sports fan, Greg is your guy. Especially if you're a Steelers fan. Another classic example of the value of #shopsmall and not just on #shopsmallsaturday, but every day. They love the small business sector as I do, and they understand the value there.
At this point, it was lunch time and yes, darn those holidays full of food, we 'cheated' again. One of our favorite little obscure, almost hidden, jewels of the town. Taipei Taipei Tea House. Ming Wen is the best cook and makes custom ordered authentic Chinese meals. Gluten free, MSG free, or however you like it! We stopped by to visit her and Linda. We just absolutely love these folks. Ming's son and daughter Roy & Mia have been in our lives since they were babies because she's owned a restaurant here for so long.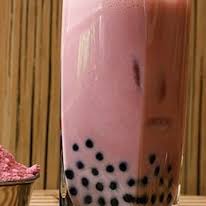 Ming is the best human being too. She feeds less fortunate families every Thanksgiving and has her children help her distribute food. They feed families affected by local tragedies. The restaurant often donates food to school, exchange student programs, etc. Ming Wen is a big proponent of giving back and paying it forward and we love her for that even more than the awesome food she prepares. Taipei Taipei is also known for their bubble teas. Milk & tea-based drinks containing fun flavors and 'boba', which is a commonplace in Taiwan, her native hometown. Boba is a tapioca texture ball filled with a flavored juice that adds to the flavor and excitement of her teas. For a real #shopsmall experience, go in and have a bubble tea (with the boba) or her amazing Chai Tea.
We left and headed towards downtown again, as it was approaching lunch. We stopped by the Get Healthy location in Brooksville, where we enjoy shopping for organic and healthy food options. The Wagon Wheel Cafe in there is great and is super healthy. We'd gotten an organic pumpkin pie from Kerrie just days before and it was awesome. We picked up our usual rounds of Ezekiel Bread, some lentil pasta, quinoa, avocado oil mayo. Sometimes we'll even pick up a piece of Brian's delicious gluten-free desserts. They're so incredibly good! They're a small organization with two locations who are committed to helping people achieve better health and wellness through holistic approaches. Their staff is certified and training in enzymes, nutrition, supplements, etc. If you like the all-natural approach, they have a great selection of oils, body care, incense, etc.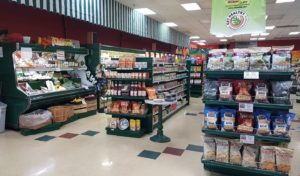 Now we're really feeling all the effects of the day's eating, but #shopsmallsaturday isn't over yet, so we press on! We head over to Easy Street Home Decor, a bizarre little bazaar filled with odd and unique treasures. Purses, soaps, knickknacks, furniture, paintings. It's the most interesting little place filled with clutter that yet somehow manages to stimulate you in all the right, and most nostalgic, of places. My favorite thing is that they use an authentic cash register from 1924.
I admired a coffee table made from a tom drum. We browsed a creepy doll collection. It all is somehow enjoyable and an experience one needs to have when venturing the downtown area. The shops around the Courthouse are all so interesting and in some ways, a little historical. If you do make it into Easy Street, don't pass up the chance to chat with Bob. He's eccentric, hysterical, and brilliant. Him taking you through the store is like a guided tour through St. Augustine. You can't help but feel like you're learning. I'll take education with my #shopsmall any day!
Now it's about our dinner time. So after more juice at the house, we decide to make two more stops to some of our favorite small local businesses. #shopsmall just wouldn't be complete without visiting all your favorite places. We headed out to Spring Hill to Juicy's Juicebar. We love their Chicken Strawberry wrap and it's filled with greens. Yummy! We split one and had a shot of wheatgrass because you just can't get too many greens. It's a really great small shop, family-owned, that's a nice alternative to the unhealthy greasy fast food options.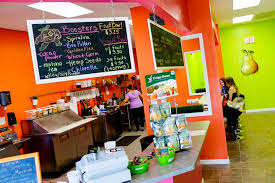 After visiting with them for a bit, we decided to take the short drive down Barclay to the Crossing's Plaza. There's a fantastic little ice cream shop called D'Lights there that's a delicious, tasty, healthy alternative to sugary salty ice cream. We go every weekend to get a 4 oz swirl cup. The ice cream is made in Tampa and distributed to hundreds of small franchise shops across the country. If you really want to check out healthier alternatives or visit some new small business locations, it's worth it to #shopsmall at both of these locations.
#shopsmall
I hope you had a fun time reading out some of our little diamonds in the rough, and I hope you check out at least some of these locations for yourself. If you already have, do leave a comment on your experience. Feel free to share this with anyone visiting our slice of paradise, or new to the area.
Thanks for stopping by, and thank you for supporting #shopsmall.