I've been a member of many different Networking groups and I still have Shine Consulting in a few of them now. Knowing how to find the right networking group is important. This article will be updated as often as needed to keep you informed on my opinions in networking in them, and the pros & cons to consider for each. This is based on my experience in being a power networker. Keep in mind I've been networking for 5 years and some of you have been doing it much longer. Hopefully, regardless of your experience level, or style of networking, you'll find this information helpful if you're considering what groups to join. Definitely, visit them all, and every different location/chapter so you can best decide what's the right fit for you and your business.
Networking works, but you have to work at it. It's NetWORK because it is work. It's not about eating, sitting, standing, or talking, it's about working. That work pays off, of course, if you network right. My friend Melissa, who's a Banker at BB&T Bank used to tell me that's why they didn't call it Neteat, or Netsit. She was completely right! Networking is work and there's significant efforts required to be successful at it. I'm not going to talk about those here, because there's an article for that (How To Network Successfully).  In this article, I want to focus on my personal experience in the group you're most likely to find in your town and help you understand how to find the right networking group.
How To Find The Right Networking Group
Let me be clear, a group can be plural. You may decide you want to be in multiple groups and some groups will allow that. You don't want to stretch yourself too thin, especially if you are wearing multiple hats including the marketing one. Your marketer will face more requirements for certain groups so don't stretch him or her too thin either. Start with one group and expand to multiple after you feel you've really got the hang of networking. How to find the right networking group starts with understanding what groups are in your area and how they're all different.
Chamber of Commerce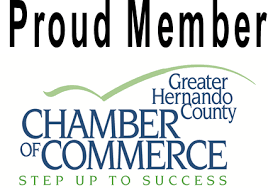 This is common in just about every county. Some counties share a chamber, others have a single, some large counties have multiples. Chambers are non-profit organizations with the goal to connect business professionals and help them leverage their community, chamber tools, member representatives, etc. to grow their business. Each chamber is different because of their team and some have more resources than others. Shine Consulting joined the Greater Hernando County Chamber of Commerce member in 2016.
Pros – The chamber offers a lot of complimentary PR and marketing opportunities like Grand Opening ribbon cuttings, local radio show interviews, member directories, local business events, networking opportunities, etc. I was able to do a presentation on social media marketing for a chamber event. Each chamber is different. Go in, talk to a representative, and find out what their chapter offers. Our chamber offers social media marketing for members, member spotlights, member connections, etc. The chamber is a low-cost investment and generally starts out under or around $300 a year depending on your location. In my opinion, the chamber is one of the most reasonably priced networking options considering all the events and opportunities they provide you. Most locations are willing to be flexible if you have talents that can benefit other members. Also, if you're looking for opportunities to serve your community, the chamber is a great opportunity.
Cons – The chamber is most effective when you work it. You have to be proactive in going to events, participating, volunteering. Most chambers don't have representatives that will hand you clients in your lap. You have to spend time yourself connecting with members with synergy and you have to be patient when waiting to get leads from the chamber. If you have little time to "pound the pavement" then the chamber may not provide the ROI you're looking for. Sometimes you really need to dig into what benefits come with the group. Asking a lot of questions can be how to find the right networking group, or the right location/chapter.
Keep It Local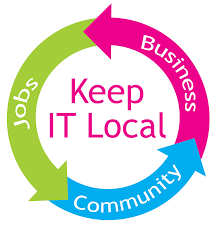 Keep It Local (KIL) is a newer networking group that's gaining traction very quickly and they are in most counties in most states. KIL was founded on the principles of industry-exclusive groups that meet regularly, usually 3-4 times a month. Some counties may have several KIL chapters and others may have one. KIL is going to vary chapter by chapter because each chapter will have different industries, people, locations, meeting times, etc. I always recommend considering the members and industries over location and time. Pick the group that most compliments what you do. Shine Consulting joined KIL in 2016.
Pros – KIL is industry exclusive per chapter which prevents direct overlap of products and services. Though I have another person in my group that offers web design and social media marketing, he "owns" the graphic design seat and me the "marketing" seat and I focus on consulting and content marketing. There's more synergy between us than the competition. That's how you should look at it. KIL is low cost, only $99 per year with no room fees or other fees. There's a member lookup website that's chapter based and anyone in any KIL chapter can find you by name, industry, tags, services, etc. KIL has more liberal attendance and performance rules which keep it laid back and enjoyable while being effective. KIL allows you to be in two chapters as well as be in other groups.
Cons – KIL doesn't have strict policies and performance criteria. I like the flexibility of being able to have a productive work week from time-to-time without having to meet a minimum number of educational credits, one-to-one meetings, etc. Some people do not like this because they feel that it lowers the guarantees and productivity of the group. I'm going to consider this a con because the less restrictive policies, in my experience, have led to less attendance, less tracking of closed business, and less commitment to do one-to-ones. I still find it effective, but if you want a very high level of continued commitment, you should attend 3 consecutive meetings as a guest and see what you think about the group. Experimentation can be a small part of how to find the right networking group.
BNI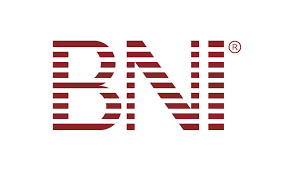 BNI is the powerhouse of networking groups. I was in BNI for a year with a company I worked for years ago. BNI is networking on steroids, it's one of the more widely recognized networking organizations and is international. With over 195,000 members in 7,500 plus chapters worldwide, BNI is the largest networking group. In 2015 alone, BNI members generated 7.7 million referrals resulting in over $9.3 billion in closed business worldwide. Many counties have multiple chapters and the average chapter is about 40 members. Mine saw between 43 – 48 members. I was in BNI from 2012 – 2013.
Pros – BNI is industry exclusive, like KIL, so you find more complementary members vs competitive members. Because of BNI's strict policies, the chapters tend to have great attendance and higher levels of consistency. Because each chapter tracks education units, referrals, one-to-one, and closed business, you can quickly gauge who the better performing members are. BNI does monthly and quarterly awards so if you like to compete and be recognized for excelling, BNI is great for you. I made group VP in less than a year and won MVP during my first quarter. I got a couple of closed business awards too so that felt good. You'll like it too. BNI chapters require 2 one-to-ones per week so you're getting to know members at a more rapid pace. BNI, in my opinion, is a great place to go if you want results and accountability, and you want it structured. BNI gives you the ability to visit in any chapter in any location and allows you to connect with any member anywhere from the online locator. Lots of business is closed this way.
Cons – Those same strict policies can sometimes be a negative to some people. As a representative of a business, it was easier to make meetings, but as a solopreneur, it can be more challenging. I traveled out of state 5 times in 2015, totaling 7 weeks of being away. That's over double the number of absentees that would lose me my seat. You can send a substitute, but you can't have the same sub more than 2-3 times (varies per chapter), so I would have needed 2-3 subs to represent my business. I have strategic partners but they too are mostly one person operations. On hectic weeks, meeting the minimum required meetings and units can be tough and they will count towards you at renewal time. Some people don't like the pressure of being asked to have 2 referrals every week, some people do well with that kind of pressure. BNI does not allow you to be in more than one chapter and does not allow you to be in any other networking group (Chamber excluded). The costs are significantly higher around $500 a year plus weekly room and food fees. The average investment is about $1,000 a year. Like KIL, you can attend as a guest to see if the structure and commitment is best suited for you. If you're a doer and you're serious, BNI might be your top choice. If you know you can calculate your ROI and load stats in your database, that might be a way to know how to find the right networking group.
How to find the right networking group is really all about you going and visiting for yourself. Not just one time, but several. Look up the members online. Go to their websites. Check them out on social media. Do your homework to determine who can compliment you best, and who can you compliment best. The expectation should never be that you'll do business within the group, but that you'll grow your own business because of the group. Expect to be fully committed to helping other's grow their businesses too. I chose my networking groups & events based on having the most synergy. Where can I find the most complimentary folks? That's the thing I look for most when deciding what places to visit. I pay close attention to the acuity of the members once I'm checking a group out. How to find the right networking group is going to require some effort on your part, or your marketer's part.
LeTip
LeTip is very much like BNI but is typically smaller in size. I first heard of LeTip from my buddy Bruce of Flex-Chex because he was a member of the Tampa Bay area (Central Florida.) He said it was close to 40 members and that they followed the similar policies and expectations of BNI. Because I have not attended a LeTip group, I won't break down a pros/cons list because I can't give you my own experience here. Bruce advised me his group in Tampa was more strict than his BNI group in Clearwater and that they were far more serious. I think this just depends on the members. Some are more driven than others. Because of how similar it sounds to BNI, I'd have to say LeTip would likely have very similar pros and cons simply based on my conversation with Bruce. LeTip is about $400 a year with room and chapter dues that hit quarterly making this just slightly less than BNI for the cost. I like BNI's website and marketing collateral much better, and I think Ivan Misner is a greater source of motivation. BNI also posts up-to-date stats on referrals and close of business whereas LeTip does not. Just considering these things alone, I'd likely give an edge to BNI because they're branded better, but again, I'd still chose to base it on the members. I only know about this group because a friend brought it up. Having business connections can sometimes be how to find the right networking group, especially if you're willing to continue making connections and trying new groups.
MasterMind Group
I really, really, really wish I could be in a position to give you my experience on this one. I actually have yet to come across the opportunity. There are not any closer to me in proximity and I don't have any connections who've been to one. Part of the thing about MasterMind Group is that you don't talk about MasterMind Group. I can only imagine Tyler Durden is guarding the door at every meeting. MMG is more of a brainstorming group where you challenge peers, share ideas, set goals, create strategies, etc. Confidentiality is a requirement so even if I had been to one, I probably couldn't tell you much more than I can tell you now. I don't know much and I didn't find their website helpful. I don't know if there's a cost if it's industry exclusive if it's actually good for referral based networking…I just don't know. I'd suggest you inquire about a chapter if you're fortunate enough to have one by you. How to find the right networking group might definitely have something to do with super secret underground clubs! (LOL)
Rotary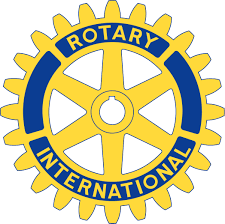 Rotary isn't the traditional networking group, it's not really a business networking group but it is all about networking, fellowship, service and… Guess what? It's full of business owners and representatives. There are 34,282 member clubs worldwide with 1.2 million members called Rotarians so it isn't small. To be exact about Rotary is, it's  an "international service organization whose stated human rights purpose is to bring together business and professional leaders in order to provide humanitarian services, encourage high ethical standards in all vocations, and to advance goodwill and peace around the world." There's no exclusivity, no industry specifics, no performance requirements. It's good people committed to helping others and those people make great connections. They are the kind of people that can, and will, help your business grow, but only if you're genuine and you're there to help too. If you aren't truly committed to the cause, don't join. I've been to a couple of Rotary events with a previous business and there were a lot of businesses there, more than half the room. Most of them were marketers or decision makers. There are fees involved because you are served food and you will meet weekly. There will be guest speakers and you'll be asked to put service above yourself. If this is calling to your heart, go be a guest and check it out. It's a great complimentary group to your more business-oriented ones. If there isn't a Rotary near you, or you'd like an alternate option, consider Kiwanis. Kiwanis is similar to Rotary but has a unique hierarchy system. I have business colleagues that are in Kiwanis and love it but I really don't know the differences between it and Rotary, though I'm guessing it could be significant. You should check each one out if doing for others is a passion for you. If the group makes your heart happy, that could be how you find the right networking group.
Other Groups
I attended several other networking groups that were only in the county I was doing business in. It was so a software company. Both were unique in their own way and I liked each one a lot. One was Women Building Women which was a networking group that focused on referrals, community service, and empowering the members. I'm not very keen on gender-specific groups and feel like if there were a 'Men Only' group it'd be sexist but let's not go down that rabbit hole. It was a great group for getting to know like-minded professionals but it was better for my social reputation, which is very important. How to find the right networking group can be about using Google and asking around, to find out what groups are around that are unique to the local business community. Our WBW breakfast had about 30 members and was only $4 a meeting once a month. One of my favorite groups was The NET. It was a small group, about 12 people but it was very, very focused. Every week we had a new one-to-one partner and we had to do an infomercial for the other person so you were forced to learn their business. This added fun to the networking and really made you think about being accountable. I think it's why it didn't grow as it should have. It was only $10 a week and included coffee, donuts, bagels, etc.
Another group in my area is the Nature Coast Business Professionals. This is non-industry exclusive so I don't like how people try to compete in each meeting. There's a lot of pyramid sellers there (Organo, Herbalife, IT Works, etc.) which isn't my cup of tea but it could be perfect for the right member. It was 50 members with two presenters a week. If it wasn't so far a drive in the early morning, I'd consider it but ultimately, I don't think it's the best complimentary group to me. There are several other local groups I've been to but you get the point. Check into your business community and go be social. Try it out. Have your marketer try it out. Be curious and do your research! Definitely a big part of how to find the right marketing group.
How to find the right networking group will require you to get out there and do the trial by fire technique. Easier said than done, I know if you're a solopreneur. When I was working for a company, I could manage it pretty easily. As the owner, it's much harder. Managing the partners, the projects, creating the strategies, designing, training…So how would I do it? I'd HAVE to carve out 1 full day a week to do nothing but networking and squeeze as many groups/meetings in as possible. You might be saying that you can't give up a day of productivity but you have to and you will. Why? Because it's absolutely worth the cost of growing your business. Networking correctly will definitely generate growth. It's worth it. 100 times over. How to find the right networking group is in you playing Jenga with your schedule for a bit. I promise it's worth it. I've helped a lot of businesses grow during my employment with them and I relied a lot on networking and clever scheduling.