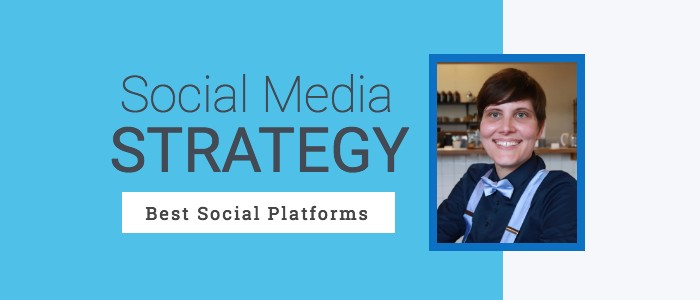 The best social platforms will vary depending on the attributes of you and your business. B2B and B2C will use social media in different ways. Selling services is very different from selling products. How I made my decision on determining the best social platforms was through a variety of things. Ease of use, flexibility, and audience. This doesn't mean you shouldn't have others, not on this list. It also doesn't mean that everyone on this list is right for you.
Best Social Platforms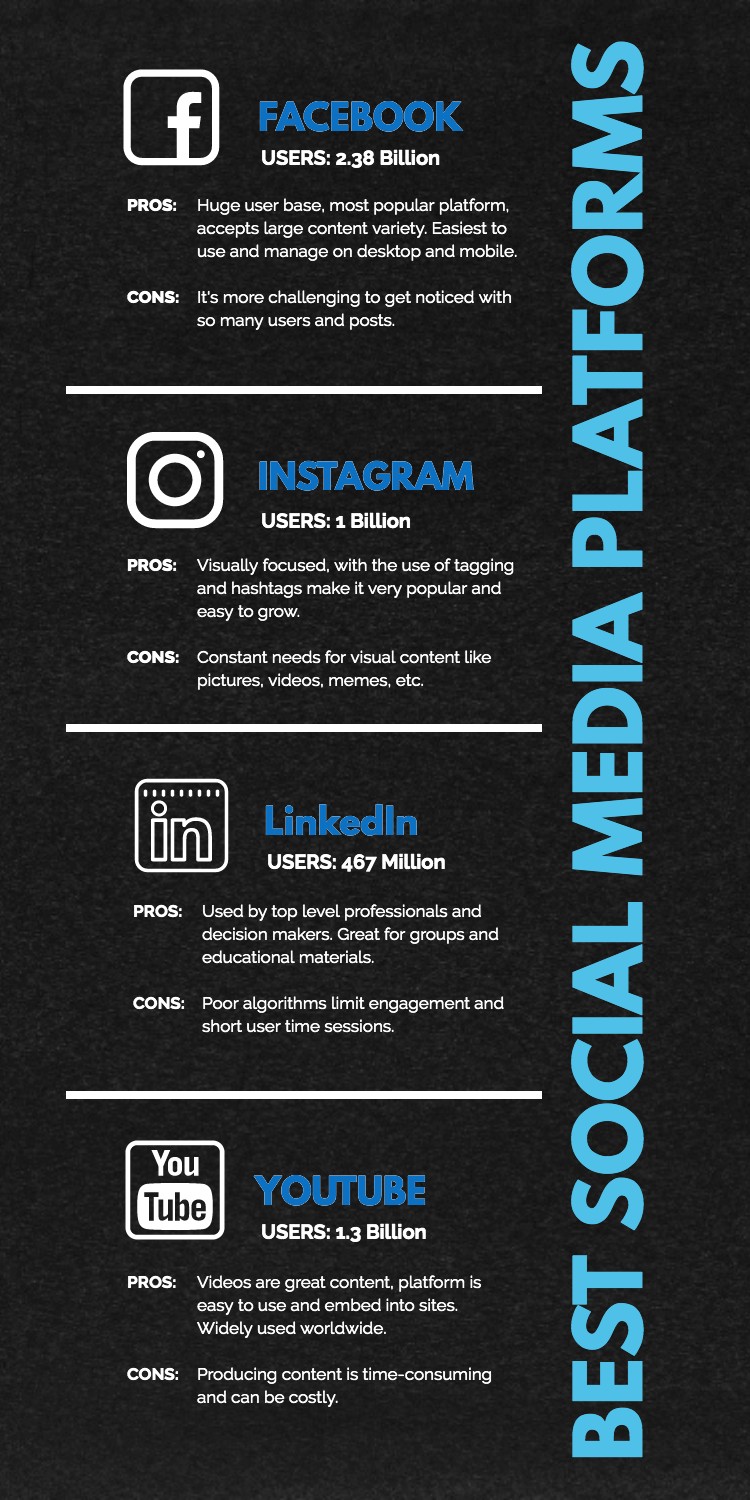 Facebook
It's HUGE. Enormous, vast, immense. Massive, colossal, gigantic. Mammoth, gargantuan. No matter what adjective you use, Facebook is a beast. It has a user base that can only be described as cosmic. 42% of the World uses Facebook. That's insanity. The sheer power of Facebook is why is one of the best social platforms on the planet.
PROS
Nearly 3,000,000,000 users
Great engagement algorithm
Desktop & Mobile friendly
Super easy to use
Accepts a variety of content types, including hashtags and tagging
Search algorithm matches a search engine
Clear separation of personal profiles and business pages
CONS
Hard to gain engagement with the saturation of users
Facebook sponsored posts will hijack newsfeeds
Star reviews were exchanged for recommendations
A more (and new) challenging verification process
Instagram
Instagram is the leader in visual beauty. It is the perfect platform to showcase memes, pictures, videos, and live content. Since it's purchase by Facebook, it's grown significantly and is almost as large as YouTube (user wise.) Users spend more time on Instagram than other platforms. It's also gaining popularity with younger generations. It's constantly growing and that's why it's one of the best social platforms today.
PROS
Users are accustomed to heavy hashtag use
The search recommendation algorithms are very accurate
Geo-tagging is accurate and perfect for tagging locations when traveling or showcasing a location
 Very neat and organized interface
CONS
Over-reliance on visual content makes content creation harder
Designed for mobile use only, limited use on a web browser
Crashes often and has tech issues more frequently than other social platforms
LImited business profile use (by multiple users)
LinkedIn
LinkedIn is the best way to get in front of a professional audience. High-level employees and owners are on LinkedIn more than other platforms. The groups on LinkedIn are stellar and more efficient than any other platforms to date. That's why it made my list for best social platforms.
PROS
Hiring and job placement opportunities
Professional news sources trending algorithm
Decision-making networking connections
Profile features to easily showcase skills, experience, and talent
CONS
Poor newsfeed algorithms
No longer provides recommendations for business pages
No longer allows page verification requests
Low use of hashtags among users
Very short user time per session
YouTube
YouTube gets about 100,000,000 views per day. That's a TON! It's the 2nd most used website in the world. Every year users watch enough hours to equal 46,000 years. Users LIVE on YouTube. This is one of the best social platforms in the world hand-down.
PROS 
Easiest potential to go viral
Users spend longer on the platform than any other
No bandwidth limit
Easy to use on-the-go, including video uploads
Easy interface to categorize and group videos
Good video recommendation algorithms
CONS
Can be costly in time and money to produce content
YouTube 'owns' more of the traffic than your site
The largest site for trolls and has very little censorship
Poor category use
_________________________
I also use Twitter, Tumblr, and Google My Business. Some platforms I only use for personal use and some only for professional. What are your favorite platforms to use? If you have any pros or cons you'd like to suggest, please share them. I'd love to hear from you and connect on LinkedIn.