It's hard to be a diehard gamer and also be a freelancer and someone who tries to go to the gym every day. I'm not a fan of overindulging on caffeine and I believe there are zero substitutes for healthy choices. Some of you need that boost in the morning as night owls. Since my bedtime is 9:30, I need it for weekend nights to stay up gaming. I have tried to consume as many energy drink brands as I could in pursuit of being able to write this article one day. So here it is, my energy drink review!
My disclaimer is that I know it isn't healthy. Energy drinks have high levels of caffeine, sugar, dyes, sucralose, and a bevy of other shit. I know and this article has nothing to do with the health benefits, health risks, or what brands offer healthier alternatives than others. It's simply about the quality of the energy and the taste of the product.
Energy Drink Review
I'm only going to focus on my top 5 for taste and performance or this article would be entirely too long. Plus, and this is the honest trust, most energy drinks perform the same so it's really about the taste anyway.
#5 – Bang Energy
Bang has a lot of really good flavors but the caffeine content leaves you with a pretty rough crash. 300 MG per serving is really high and there's not a lot of other content as far as vitamins of supplements. It's really just a lot of caffeine. Rainbow Unicorn, Purple Haze, and all 3 coffee flavors are delicious. They really are among the better tasting drinks but the crash is too intense and the energy is too short for the whole can. Plus, it's a more costly option.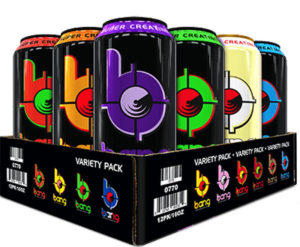 #4 – Monster Energy
Monster is sugary and filled with minerals and vitamins but is lower on the caffeine content on the list of energy drinks. Monster works as well as any other brand but just tastes better. Almost every flavor of Monster is good, very good. It's far better than Red Bull or 5-Hour Energy in terms of taste and is just as good on performance. I actually prefer my Jager Bombs with Monster as well. All the sugar or heavy sugar substitutes leave me with a little less focus than I'd like from an energy drink but it tastes so good, I have to indulge now and again. Monster Import is probably the third-best tasting energy drink flavor of all time. Monster may even be deserving of a better position in my energy drink review, so I'll want your opinion on that.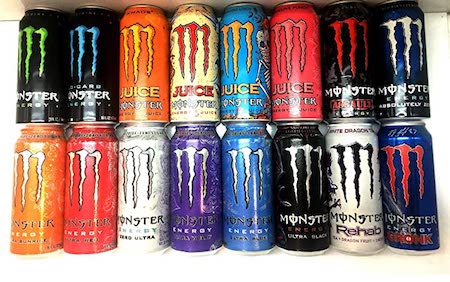 #3 – ZipFizz Energy Drinks
ZipFizz is super convenient. I carry the little tubes around and dump a half to a whole in a bottle or glass of water. The fruit flavors aren't too strong and the energy levels are good. It's a more natural product with a much higher level of vitamins and minerals. It works and I like to have it occasionally for the carbonation, or when I'm on the road. Late events are tough so this helps keep me awake. I really like the Orange and Fruit Punch even though I'm typically not a fan of sweeter, fruitier flavors of anything.
#2 – G Fuel
G-Fuel really doesn't work any better than any other energy drink and is about the same for the average of caffeine and mineral content. What I like about G-Fuel and other brands is the value. I can buy a tub and mix my own, lowering the cost significantly. G-Fuel has the most flavors by far and while I'm not a fan of fruity flavors, they've blessed me with sour options. Dr. Disrepect's Black on Blackberry, Blue Sour Chug Rug, Sour Pixel Potion, and Sour Cherry are all pretty tolerable and less than a buck a serving.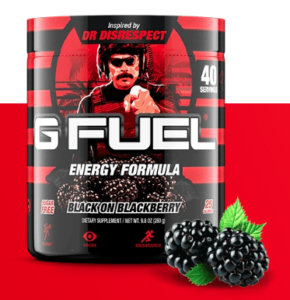 #1 – Sneak Energy
Sneak Energy is in a league of its' own. They are deserving of my number one spot in the energy drink review, hands down. They are newer to the scene but whatever magic they have put in their formulas is truly a miracle. Sneak gives way more than just caffeine and vitamin awakening. There's no comparison to how mentally alert and focused I feel from it. It is a night and day difference between this and everything else in the market. The mental clarity I get from it is truly unparalleled. They don't have as many flavors but they are the best flavors, in my opinion. Stealth and Purple Storm are the best tasting things in the industry and Cherry Bomb is in the top 10 for sure. I prefer Sneak not only for gaming, but for blogging, in-person meetings, and presentations.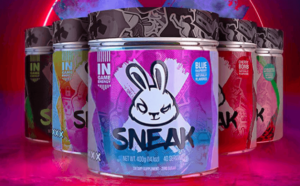 _________________
What did you think of my choices for this energy drink review? Do you have any comments about my top choices? Any other brands or flavors you would add? For unfiltered humor and gaming content, let's connect on Instagram. If you have a gaming channel, send it to me to check out!